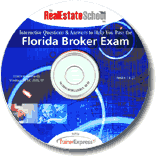 Highly Recommended
Featured Testimonial:
I am glad to report that I have passed the state exam with the help of The Real Estate School's study tools...I found the interactive CD-ROM to be most helpful because it gave feedback right away and banked the questions I missed for review later. I listened to the audio CD's in my truck while driving to appointments. I liked that there were options with the study packet that fit all learning types (reading, listening, problem solving etc.). I would like to thank The Real Estate School for helping me achieve my professional goal.

Sincerely,
Patrick Darden


[read more testimonials]
Interactive Questions and Answers to Help You Pass Your Florida Broker Exam
(Computer CD-ROM version)
Produced by The Real Estate School, Inc.

Click here to download a 50 question evaluation copy.

This a a WONDERFUL review tool for real estate brokers taking prelicensing classes and preparing for the state exam. We developed this new version from the ground up, based on feedback from our customers and students. It is designed specifically to help you pass the Florida real estate exam such as the multiple choice exam administered by Pearson VUE, Inc. (formerly Promissor). Review course material on your PC as you complete various sections of your real estate course and be prepared to pass your course final exam, as well as the state real estate exam.

New features include:
Over 900 questions from 16 different categories.
Immediate audio and visual feedback showing whether your answer was correct or incorrect.
Answers include rationale, so you understand the reasons why you were right (or wrong).
Quick Quiz and Custom Quiz modes allow you to get started quickly without sacraficing testing options.
Generate self-tests of any size.
Easily mark questions for later review as you take your quizzes.
Easily filter out questions you've already seen.
Timer allows you to see overall quiz time and individual time for each question.
Comprehensive review page allows you to generate quizzes based on what you missed in your previous quiz.
Exam Mode allows you to hide your score until the end of the quiz to better simulate a real testing situation.
Includes 3 months of free question updates.
Highly Recommended!

ATTENTION:
This is a CD-ROM version of this product. If you'd rather get started immediately, you can download this product and save $$$$$! Click here to order the downloadable version.

System Requirements: Windows PC running Windows NT, XP, Vista or Windows 7, and Microsoft Internet Explorer 7 or higher. CD-ROM required if ordering the CD version. Internet connection required if ordering online version.

$65.95 plus tax