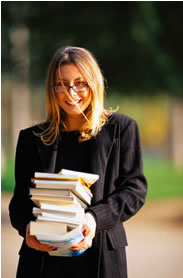 Books to get your license, books for home buyers, financing books, appraising books, real estate training books, books on brokerage and home inspection books, and all at great prices.
Brokerage Management
Policies and Procedures Manual
The Policies and Procedures Manual has been designed to be a guide for the preparation of your real estate office Policies and Procedures Manual. It is in an attractive binder, and comes with a disk (cd-rom) so you can make changes to meet your company's operating style! Thorough and concise, it has procedures for over 80 different subject areas. What a time-saver for any broker!

View sample pages and extended details.



The 30-Day Track to Success
The 30-Day Track to Success is the book which will help the new sales associate to become productive and successful quickly. It is also used by many experienced sales associates who wish to "go back to the basics," to increase their earning capabilities.

Brokers love the book, because it helps the new sales associate become self-sufficient much more quickly. Each day's activities are set out clearly, and because of the workbook style of the book, the broker can see the sales associate's level of activity at a glance.

Testimonial:
"Your manual has put the motivational speakers I've heard over the last 10 years to shame. All any broker needs is good people with the right attitude and your manual. What a time-saver for me." Bill Connor, CRB, CRS, GRI, Area-Wide Realty, Dayton, Ohio

See sample pages
Real Estate Brokerage - A Management Guide
This newly revised best-seller delivers a step-by-step, application-intense introduction to brokerage management. Designed for use by both new and experienced brokers, it includes economic considerations, changes in legislation, and technological advances in real estate. Current topics include personal assistants, home officeing, risk management, and more.
Back to top of page
Florida License Course Textbooks



Florida Real Estate Principles Practices & Law

This is the pre-eminent real estate text for Florida real estate pre-license education. It is used by almost every private school and community college in the state.
It prepares the student well for the state exam, giving the consumer a complete view of real estate, plus a section on Florida-specific laws.




Post-Licensing Education for Real Estate Sales Associates

The most widely used textbook for new Florida real estate sales associates contains a wealth of practical information for building a successful real estate career.
You'll learn about listing property and working with buyers, financing and closing, investing and property management.

Action lists help you apply what you've learned, and Forms-to-go are included in the back.




Florida Real Estate Broker's Guide

This outstanding new text makes an outstanding reference for every real estate brokerage firm. It provides a resource for brokers in many different areas of Florida practice.
This is a large, complete guide to every phase of brokerage operations.

Coverage includes valuing real property, listing and selling and real estate specialties.

Back to top of page
Math Books
Mastering Real Estate Math
New features have been added to this edition. Chapters are divided into five key concept areas:

Parts & Pieces of the Total
Surface & Space
The Economics of Real Estate
Doing the Business
Practice Makes Perfect

New investment chapter. New "Glossary of Real Estate Terms". More than 60 challenging new problems give students plenty of practice in each area.

Plus, this new edition offers real estate students comprehensive coverage--from fractions, decimals and percentages to mortgage math to appraisal and lease calculations. Updated cost and sales prices, and tax & interest rates reflect today's marketplace. Detailed illustrations clarify complex concepts.
Real Estate Math
Every question and example is worked out completely, step-by-step, so your're never confused about how to solve a problem. Basic calculator steps are included with examples so you can learn how to solve problems more quickly.
This is a great tool for passing the state exam!
Back to top of page
Investment Books
Investment Books
Essentials of Real Estate Investment
A guide to making informed, professional decisions about choosing and financing types of real estate such as residential property, office buildings, shopping centers, industrial properties, and land, in a workbook format.
Back to top of page
If you have a question about an order you've placed, please don't hesitate to contact us.

All information is believed to be correct, but publisher is not responsible for errors.