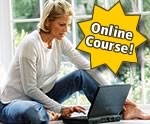 Take your real estate course online! In addition to the online course, you'll receive 1 year of access to our Online Questions & Answers to Help You Pass the Florida Sales Associate Exam ($53.95 value), our Sales Associate Exam prep audio cd set ($39.95 value) and the sales associate Exam Review Manual ($24.95 value).
Meets all the education requirements of the Florida Real Estate Commission leading to your Florida real estate sales associate (salesperson) license. If you haven't already done so, please click here to view the full details and requirements of this course.
Click here to purchase this course without the bundled software.
Includes access to the course for 12 months.