Expert Broker Exam Prep
Featured Testimonial
"I wanted to let you know that I passed the sales exam on the first try after enrolling in your online course. I found your program gave me a good background for the test questions in general, and many of the questions were like the ones I saw on the test! I'll be in touch with you again when I go for my brokers' exam!"
- Gary
Study for your Florida Broker exam on any internet-connected device!
More than 800 typical questions, constantly updated with the latest law changes.
This product features a sophisticated test configuration control panel that allows you to select from over 900 questions in 18 different categories so that you can focus on the exact materials you need. Major areas of study include License Law, Principles and Practices and Real Estate Math. Test summary pages allow you to quickly generate new tests based only on what you missed in previous tests to help you narrow your focus over successive tests. You can save your work at any time and return later to pick up exactly where you left off.
Requires no software download or installation. Pay online and immediately use from any Internet-connected computer or mobile device. Compatible with the following browsers:
Internet Explorer 9+
Google Chrome
Mozilla Firefox
Apple Safari on MacOS and iOS
Android Browser
$63.95 activation fee
Always updated with the most current law.
Florida Broker Key Point Review Audio MP3
Produced by The Real Estate School, Inc.
The best way to prepare for the Florida Broker exam is through hearing the material again and again. The audio MP3s are like a "cram" course which you can attend as many times as you like just before the exam. Listen in your home, your car or on earphones while you exercise.
MP3 file totaling 2 1/2 hours
$45.95 plus tax
Florida Broker Exam Review Manual
Produced by The Real Estate School, Inc.
With 600 questions and answers, this manual covers the broker material likely to be tested and includes items you need to remember from your sales associate material.
$29.95 plus tax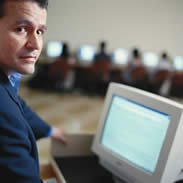 ---