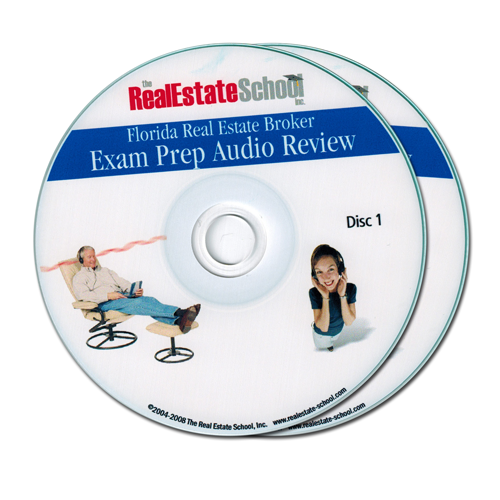 This is a downloadable MP3 version of our Florida Broker Audio Exam Prep cds.
A great way to prepare for the Florida Broker exam is by hearing the material again and again. The CDs are like a 'cram' course which you can attend as many times as you like just before the exam. Listen in your home, your car or on earphones while you exercise. Running time approx 2½ hours.
When you purchase this product you will receive a link to download a .zip file containing all the tracks in MP3 format. This file can be decompressed on both Windows and Macintosh computers for use with your favorite MP3 player. ZIP files are natively supported in Windows 7 and higher and OSX Lion and higher. Users with older versions of Windows or OSX may need to download a free zip file decompression utility to open the downloaded file (see below for details).
Track List
Introduction - 0:43
The Broker's Role in Appraising - 4:30
Real Estate Market Analysis - 1:09
Comparable Sales Approach - 4:43
Cost-Depreciation Approach - 5:07
Income Capitalization Approach - 4:07
Basic Business Appraisal - 3:14
Financing Instruments - 6:06
Sources of Real Estate Finance - 1:33
Government Influence on Finance - 6:37
Real Estate Financial Analysis - 3:36
Investment Analysis I - 2:24
Taxes on Real Estate - 6:37
Investment Analysis II - 1:02
Investment Analysis III - 0:28
Types of Investment Property - 2:46
Starting and Operating a Real Estate Office - 1:52
Real Estate License Law - 21:43
Real Estate License Law (Cont.) - 22:21
Accounting and Financial Management - 1:46
Closing Real Estate Transactions - 3:47
Becoming a Manager - 2:18
Property Management - 4:21
Federal and State Laws - 4:51
Property Rights and Tenancies - 9:28
Title, Deeds and Restrictions - 10:43
Legal Descriptions - 4:55
Real Estate Contracts - 8:37
The Real Estate Market - 1:25
Planning and Zoning - 2:31
Additional Resources - 1:00
File Size: approximately 112MB
Due to the size of this download, you will need a high-speed internet connection such as a cable or dsl connection to download this item.
Recommended Free Zip File Decompression Utilities