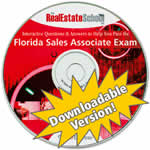 New Version!!!
This is a WONDERFUL review tool. We developed this new version from the ground up, based on feedback from our customers and students. It is designed specifically to help you pass the Florida real estate exam. Review course material on your PC as you complete various sections of your real estate course and be prepared to pass your course final exam, as well as the state of Florida real estate exam.
New features include:
Immediate feedback showing whether your answer was correct or incorrect.
Answers include rationale, so you understand the reasons why you were right (or wrong).
Quick Quiz and Custom Quiz modes allow you to get started quickly without sacrificing testing options.
Generate self-tests of any size.
Easily mark questions for later review as you take your quizzes.
Easily filter out questions you've already seen.
Timer allows you to see overall quiz time and individual time for each question.
Comprehensive review page allows you to generate quizzes based on what you missed in your previous quiz.
Exam Mode allows you to hide your score until the end of the quiz to better simulate a real testing situation.
Includes 90 days of free updates.
Smaller file size and reduced system requirements for easier downloading and better system compatability.
Highly Recommended!
ATTENTION: This is a download-ONLY version of our CDROM-based Questions and Answers product. Once you place your order, you'll receive an e-mail with a link that will allow you to download this product immediately (file size approx. 4MB - takes about 7 seconds - 2 minutes to download over a broadband connection). You will NOT receive a CD in the mail if you order this product. If you would like to receive a CD-ROM instead, please click here.
System Requirements: Windows PC (200mhz Pentium or better) running Windows 98,2000,NT,XP. CD-ROM drive required if ordering a cd-rom.