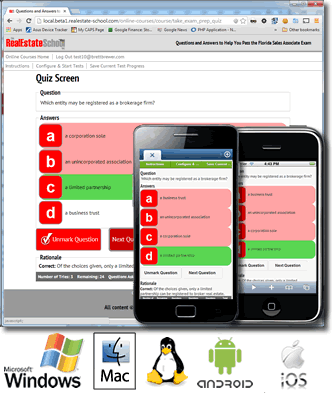 Over 400 typical questions, constantly updated with the latest law changes.

This is an online version of our popular "Interactive Questions and Answers to Help You Pass Your Florida Mutual Recognition Exam" CD-ROM product.

This online version features a sophisticated test configuration control panel that will allow you to select from over 400 questions in 18 different categories so that you can focus on the exact materials you need. Major areas of study include License Law, Principles and Practices and Real Estate Math. Test summary pages allow you to quickly generate new tests based only on what you missed in previous tests to help you narrow your focus over successive tests. You can save your progress at any time and return later to pick up exactly where you left off.
Requires no software download or installation. Works with all major desktop and mobile browsers! Pay online and immediately use from any internet connected device.
Featured Testimonial:
I am a licensed real estate salesperson in another state and had applied for a State of Florida Sales Associate license under Mutual Recognition. I highly recommend your CD in preparing for the law exam. I did pass in part due to your preparation help. I believe I knew 38 out of 40 questions.
-Alec Redfearn

[read more testimonials]
$39.95 activation fee
+ $10.00 / 90 days.
Renew later for only $10. Always updated with the most current law.